There's value in developing a bar layout and design that not only looks good but also improves the overall customer experience. Let's walk you through some of the best bar layouts while emphasising the main components that each restaurant owner needs to take into account.
1. Strategic bar positioning
Your bar's placement inside the restaurant is crucial for best impact. When choosing the location, take into account the following:
Visibility: The bar should ideally be visible from several different areas of the restaurant, luring patrons in to enjoy a drink.

Traffic flow: Analyse the natural flow of customers at your establishment and situate the bar to integrate with the circulation pattern. This ensures easy access for both seated guests and those standing at the bar.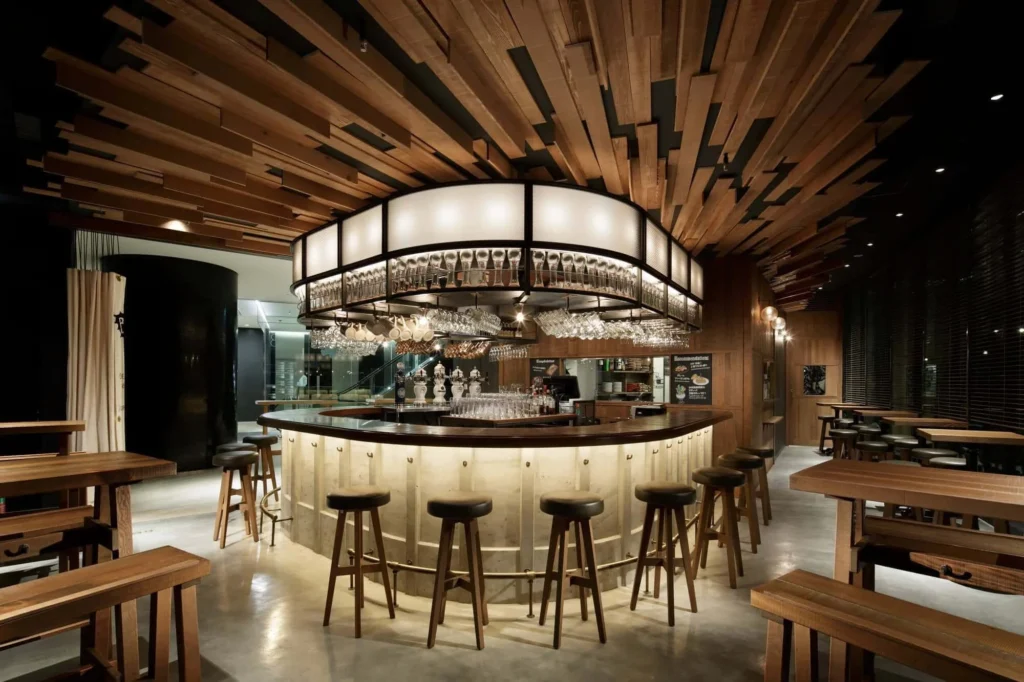 To streamline operations and deliver top-notch service, a functional and efficient bar design is required. Consider the following design components:
Bar shape: Pick a bar shape that complements your area and service style. Straight bars, L-shaped bars, and U-shaped bars are popular choices. Each offers unique benefits and can satisfy various client requirements.

Bar top: For your bar top, use a sturdy and cleanable material like granite, quartz, or stainless steel. It ought to be scratch, stain, and spill resistant.
Workstations: Establish distinct work areas for bartenders so they can easily make beverages, process payments, and store necessary equipment and supplies.

Storage: Include enough shelves and storage space for glasses, bar accessories and liquor bottles. Consider using glass display cabinets or open shelving for displaying fine spirits.
3. Options for comfortable seating
It's essential to offer comfortable sitting alternatives at the bar to entice customers to unwind, mingle, and savour their beverages. Consider the following seating options:
Pick stools that are at least as durable as they are comfy. To increase comfort, choose alternatives that have footrests.

High-top tables should be included next to the bar for patrons who would prefer to stand or grab a drink quickly without sitting at the counter.

Create a comfortable lounge area near the bar with soft sofas or armchairs, if space allows. This provides visitors with a more laid-back and personal setting.
4. Atmosphere-enhancing elements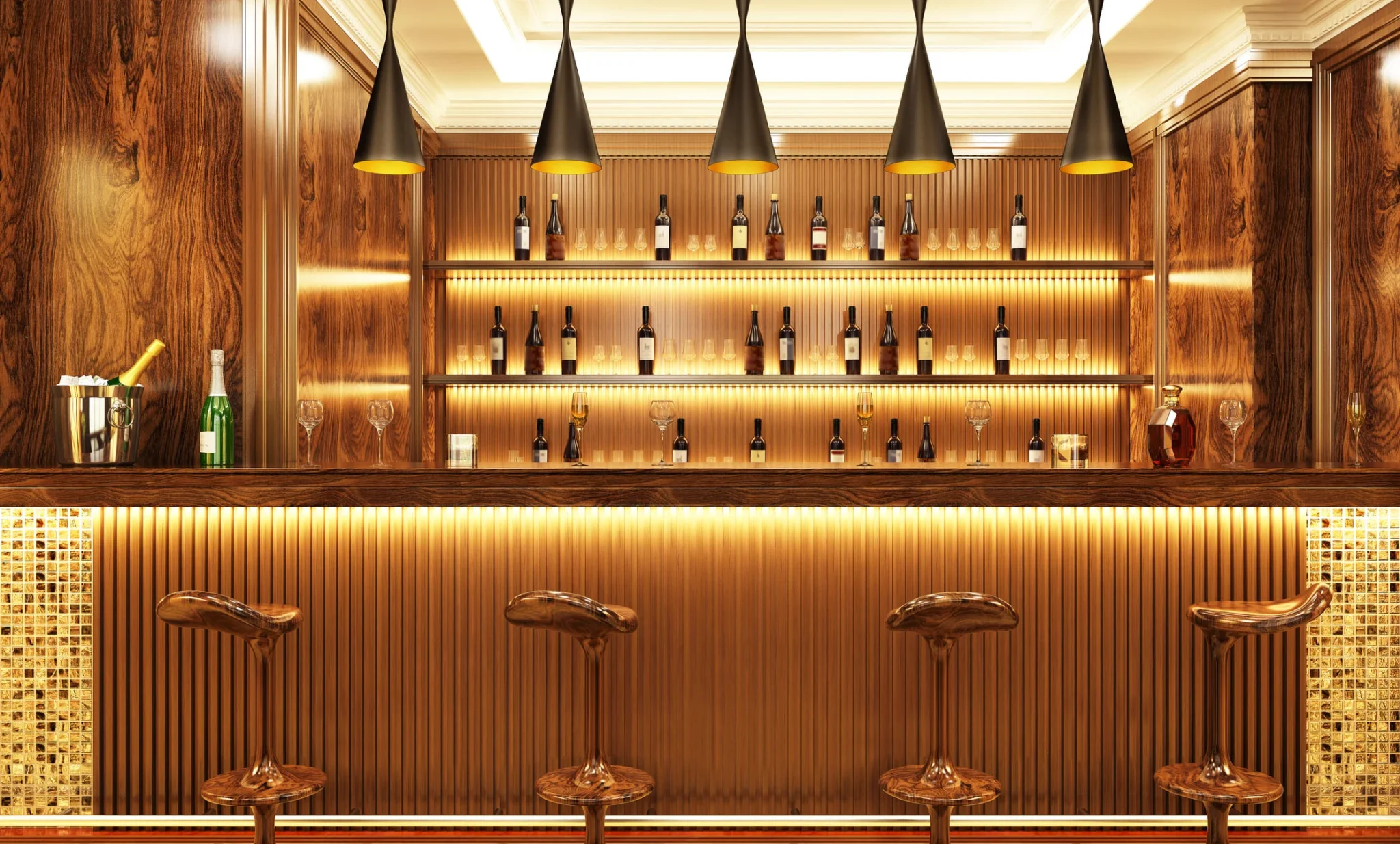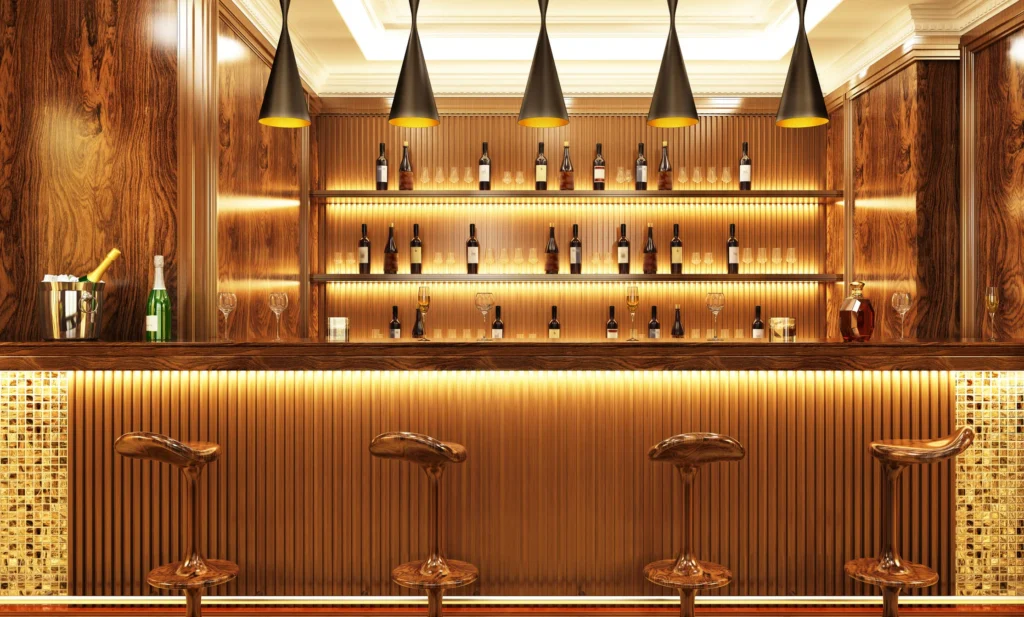 Having the perfect atmosphere will help you draw guests to your bar. To improve the mood, think about adding the following:
Install proper lighting fixtures to create a cosy and welcoming atmosphere. Draw attention to particular areas of the bar using a combination of accent lighting, pendant lighting and overhead lighting.

Set the mood with thoughtfully chosen music that ties in with the theme of your restaurant. Make sure the audio system is good so that patrons can have comfortable conversations without being overpowered by surrounding noise.

Add decorative details, such as artwork, mirrors or plants, that complement your establishment's style. 
Make use of a restaurant reservation system for your bar
In addition to a well-designed bar, utilising a restaurant management system can significantly benefit your bar area.
1. Effective table management: With the help of a reservation management system, you can efficiently manage table allocations and maximise seating capacity to maintain a steady stream of customers.
2. Management of the waitlist: When the bar gets busy, add people to the waitlist, to alert them when their seats become available.
3. Consumer information and preferences: Gather useful customer info such as preferences and special requests, through the reservation system. This enables customised recommendations and individualised service at the bar.
The ideal bar layout for your restaurant demands careful consideration of a number of factors. Every element, from thoughtful placement and effective design to inviting seating arrangements and atmosphere-improving components, contributes to the overall effectiveness of your bar.
A restaurant reservation management system can also further improve the client experience, by streamlining table management and bringing up repeat customers' preferences. Cheers to your bar's success!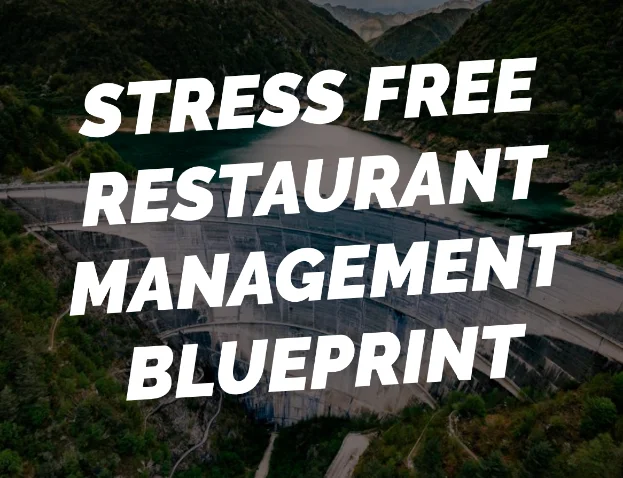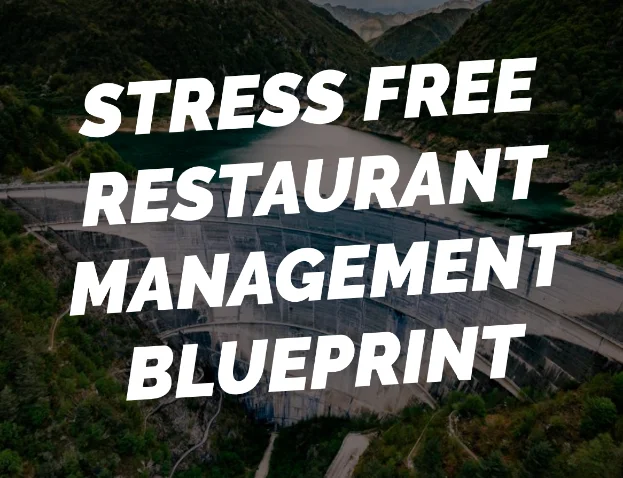 Stop wasting time when
managing restaurant reservations
Save time, reduce stress and fill your restaurant while you sleep.