As a restaurant owner, your floor map is a blueprint for success. It is the map of your restaurant's physical space and the key to creating an efficient and enjoyable dining experience for your customers.


A good restaurant floor plan is a must-have for any restaurant, as it lays the foundation for the overall success of your business. It promotes an efficient use of space and offers an easy view to managing reservations.


It's time to think about how you too can be more efficient with your restaurant bookings. With the right tools, you can ensure that every table is occupied, and every customer is seated comfortably, without wasting precious space. Tableo has the solution, with its innovative Floor Map function.
Why use Tableo's Floor Map
Tableo's Floor Map feature, allows restaurateurs and restaurant managers to create an interactive restaurant layout, including kitchen floor and dining area complete with all the tables, chairs, booths and other furniture.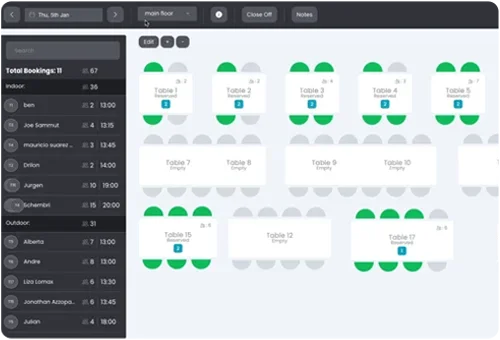 Designed to be user-friendly, even for those who are not tech-savvy. It's super easy to create a custom map of your restaurant's physical floor plan, including room arrangements and table layouts. Simply drag and drop tables, chairs, and other furniture to create the perfect ambiance. If you need to make changes, you can do so easily without having to redraw the entire plan template or create an entirely new floor plan.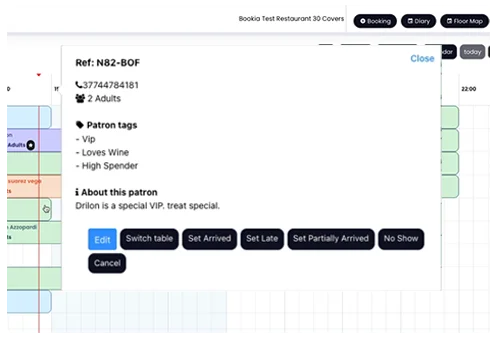 The Floor Map function integrates seamlessly with Tableo's restaurant reservation management system for restaurateurs to be able to manage work areas, tables, seating arrangements, and bookings all in one place.
What's more, you can view real-time updates of table availability. This makes it easy to see which tables are occupied and which are available for diners. It also makes it super easy to make changes on the fly as necessary.
Full view of customer information
With Tableo not only is it easy to design a restaurant floor plan, but once implemented, it's also used to quickly locate customers' bookings and access diner details with a simple click. You can get instant access to important information about each customer booking, including any dietary intolerances or booking comments.
This is particularly useful for restaurants that cater to customers with specific dietary needs, as you can ensure that you are providing the right food and service to each customer.
This feature is also useful for the back of house and restaurant kitchen staff to be able to order the right amount and type of inventory and ingredients necessary, making it cost-effective for the restaurant's operations.
Another feature is the ability to set the customer status for each booking. With just a few clicks, you can easily mark a customer as "arrived", "late", "partially arrived", or "no show". This helps you decipher table accessibility and it ensures that entrance and waiting areas are properly managed. Ultimately it's just another way to ensure your restaurant is always running smoothly and efficiently.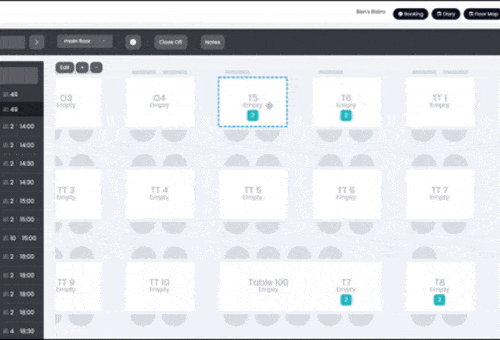 View multiple bookings per table
Through the floor plan it's also possible to view multiple bookings on the same table. Staff can easily see if a table has more than one booking at different times. This is helpful in managing the flow of customers and ensuring optimal use of available space. It allows staff to plan ahead, make adjustments and provide the best possible experience for customers.

The Floor Map allows staff to simply click on a table to view the booking details. These include the status of each table, the time and date of the booking, the number of customers and any special requests or comments.
A guide to creating your restaurant floor plan
When designing your restaurant floor plan, it's important to think about the layout of your restaurant, including the dining area, any waiting areas, terraces and more. The floor plan is designed to provide a visual representation of the layout and helps to ensure that all areas of the restaurant are properly utilized.
There are many types of restaurants, and your floor plan should reflect the type of restaurant you are running. For example, a fine dining restaurant will have different needs to a small café. So when designing your floor map, there are important considerations to keep in mind, such as:
The type of restaurant you are running

The size and shape of your dining space

The number of guests you hope to serve.
Selecting different dining areas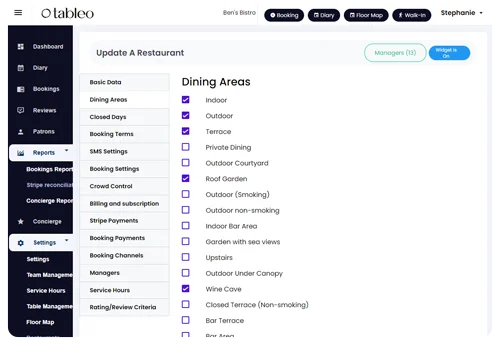 Whether you have an indoor dining area, an outdoor terrace, a private dining room, a courtyard, roof garden, or a combination of these spaces, Tableo's floor plan makes it easy to set, add and close off different areas.
You can distinguish between different floors or levels as well as different dining areas such as indoor and outdoor. You can also create designated smoking and non-smoking zones, and even specify between indoor and outdoor bar areas. You can also allocate space for the kitchen area, emergency exits and restrooms.
If your restaurant has a beautiful garden with sea views or a rooftop terrace, you can highlight these spaces as well, making it easy for customers to choose the perfect ambiance for their dining experience.
Tableo Floor Map is not just for restaurants!
We understand that beach clubs have unique needs when it comes to managing their space. This is why our platform is designed to cater not only to restaurants, but to the specific requirements of beach clubs as well.
Through the floor plan function you can easily manage the beach area by mapping out the placement of deckchairs, umbrellas and even the pool area. This way, you can optimize the use of space, ensuring that every inch is used to its full potential.
The platform is accessible, easy to use and flexible, making it the perfect solution for beach clubs looking to streamline their operations.
Is the restaurant floor plan for you?
If you are a restaurant or beach club owner looking for a powerful and customisable solution for managing and designing your space, look no further. With real-time updates, integration with the restaurant booking system, and an easy-to-use interface, Tableo's Floor Map is the perfect solution to streamline operations and improve the bottom line.
To learn more and get started with Tableo's Floor Plan, simply reach out to our team. Our experienced and knowledgeable team is here to help you to create a restaurant floor plan that meets your unique needs.
Do not miss out on this opportunity to enhance your restaurant operations and deliver the ultimate dining experience to your customers. Contact us today!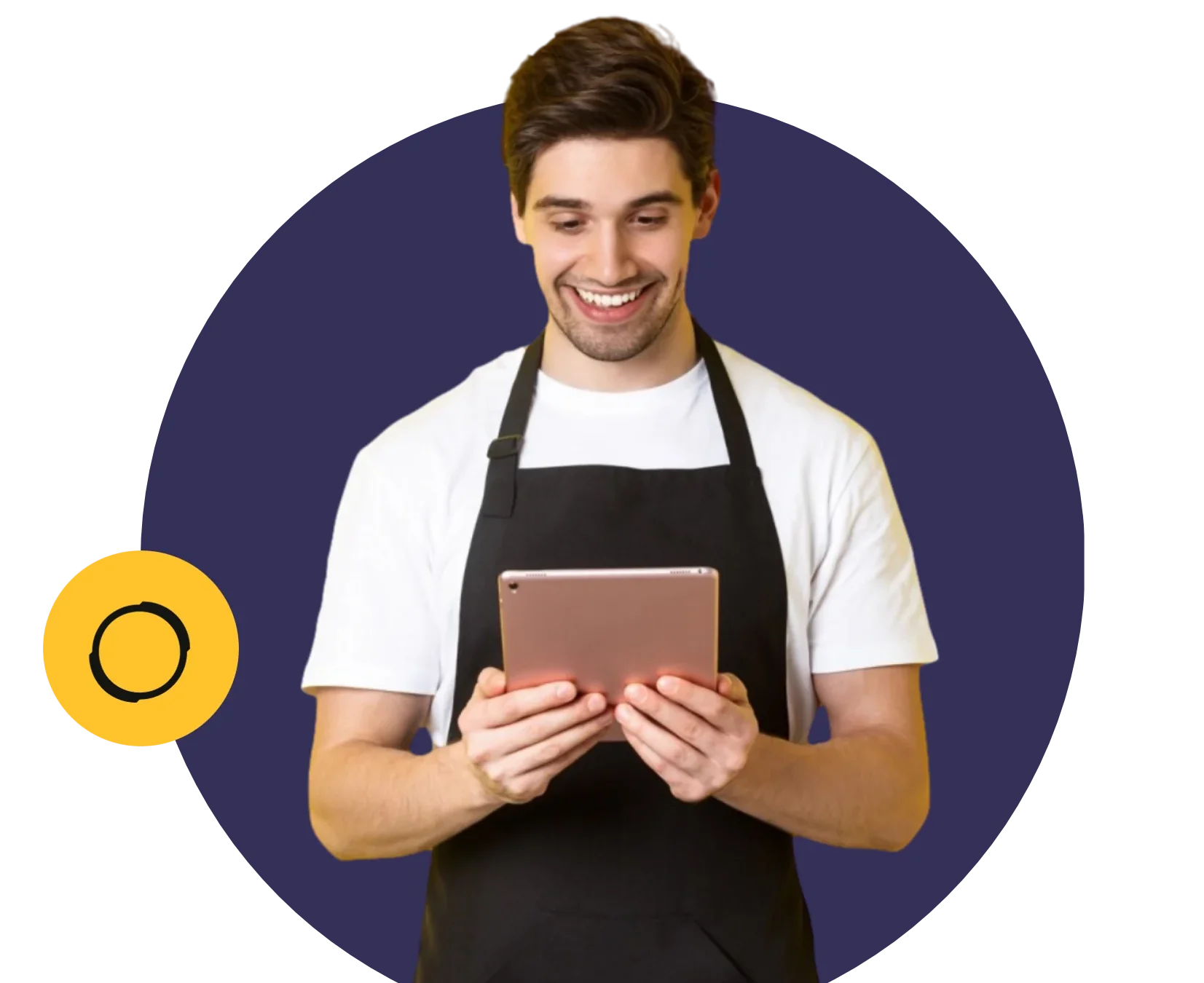 Stress Free Restaurant Management EBook
Learn how to save time, reduce stress and fill your restaurant while you sleep!