It's just an email… and yet these simple forms of communication can serve to convey so much more than just providing confirmation of reservation time and date. When optimised, confirmation emails can raise awareness, lower no-show rates, promote upselling, and improve the overall visitor experience.
Let's first examine what restaurant reservation emails are and why they are significant.
What's the main purpose of a confirmation email?
As its name implies, the main purpose of a confirmation email is to reassure your guest that their booking has been received. The sooner they receive confirmation, the better. The email should contain the guest's name, the booking date, time and the total number of guests and possibly also information about the guest's preferred dining area. It can also include details about the restaurant address, a phone number to call, and options for modifying or cancelling a reservation.
Not just for confirmation
Confirmation emails rank among the hospitality sector's most underutilised tools. These dinky little emails can support efficient restaurant operations and boost revenue. Here's a look at how.
Fix any errors in booking
Errors are inevitable when reservations are made over the phone, but it's also possible for errors to be made by the customer when booking online. A misclick can mean you book a table for the 9pm slot instead of 7pm or you book for the wrong amount of people.
When customers receive prompt confirmation of a booking by email, they can make sure the reservation they requested is the one they intended to make. By simply replying to the email , or clicking a button in the confirmation email, they can easily fix the mistake by amending the reservation online.
Communicate your restaurant policies
Take the opportunity to inform your guests of any special booking terms and conditions. Do you only serve breakfast up until 11am, or perhaps you only serve pizza after 7pm. You can add all this to your reservation email for guests to be prepared and not to have to deal with any unpleasantness or disappointment.
This is also important for stating table durations. Perhaps a table duration is only set for maximum 2 hour slots. Let customers know that you might be able to accommodate longer slots for larger bookings.
We get it – life is busy, plans change, and it's easy for diners to forget about the awesome restaurant they booked a few weeks ago. But with a quick follow-up to the confirmation message, sent on the day of the reservation, you can remind guests to honour their reservations, putting their mind at rest that the table is still secured.
This follow-up email also gives them the chance to cancel or amend their booking should things change. The earlier in the day you send the reminder email, the more chance you have to fill the space with another booking should they choose to cancel.
Knowing the exact number of people confirmed to dine on any given day, allows you to better prepare for service. This includes allocating the number of staff required in the kitchen and front of house, as well as giving you an indication on food amounts to prep.
Additionally, when your reservation system and your guest insights are integrated, servers can access guests' profiles and provide a more personalised service by recommending menu items that meet a customer's dietary restrictions.
Grab the chance to promote other product offerings to your guests before they visit. Offer upgrades to prepaid set menus, for instance, or the choice to celebrate a special occasion with a bottle of champagne.
Reinforce your brand and customer rapport
Booking confirmation emails help patrons remember your restaurant, keeping it at the top of their minds. By including links to your social media profiles you can also reinforce your brand and encourage visitors to follow you on social media.
Keep them interested in your business after they've received their confirmation email. Make it clear to your visitors that you will be sharing exclusive content and deals on your social media accounts in the future.
What to include in your email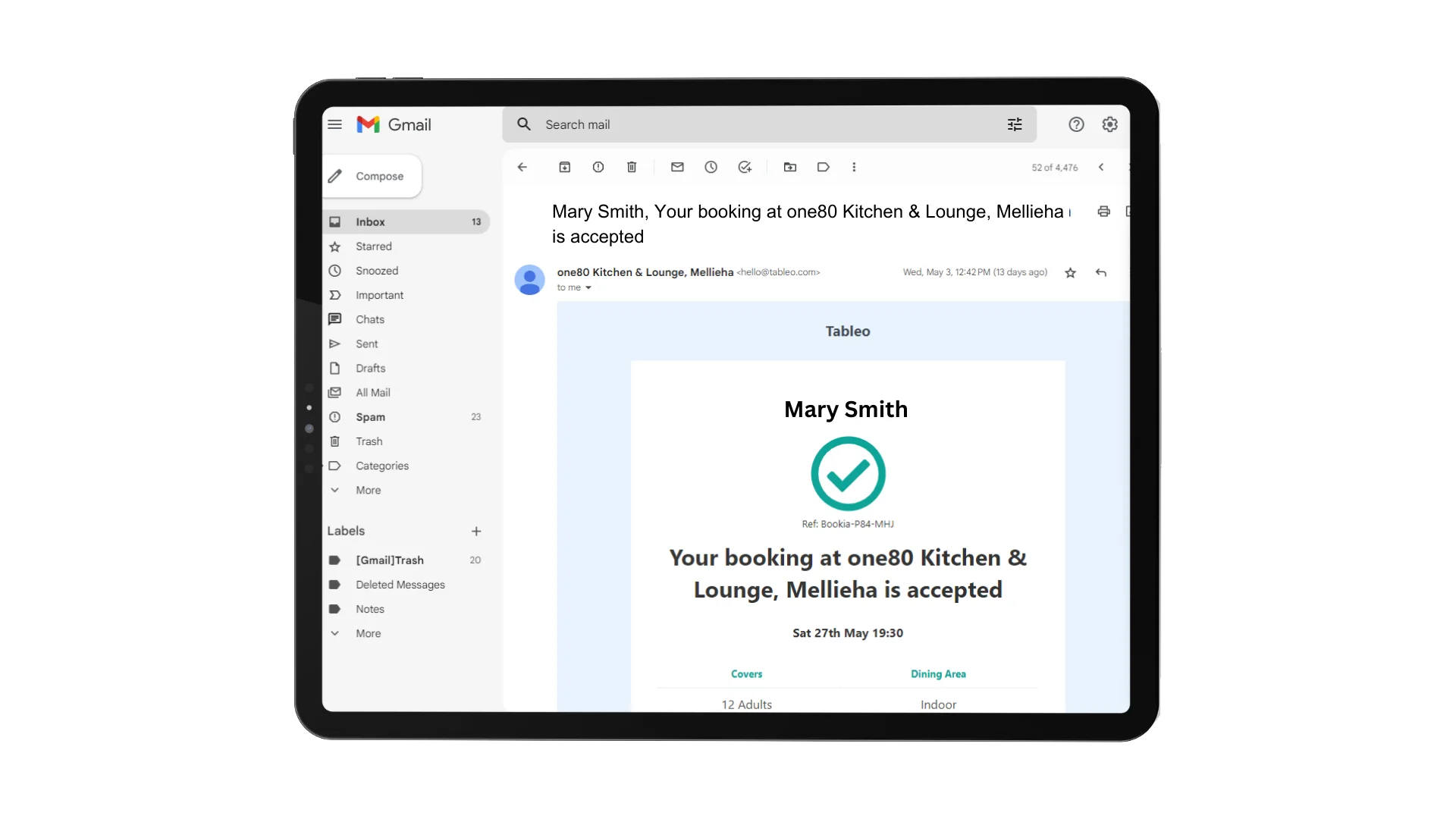 Remember, the goal of a reservation confirmation email is to provide customers with clear and accurate information while also conveying your restaurant's professionalism and hospitality.
Here are some tips to keep in mind:
Clear Subject Line: Start your email with a concise and informative subject line, such as "Reservation Confirmation: [Restaurant Name], [Date], [Time]."

Warm Greeting: Begin the email with a friendly and personalised greeting, addressing the customer by name if possible.

Confirmation Details: Include the necessary information, such as the date, time, and the number of guests in their party.

Special Requests: If the customer made any special requests during the reservation process, acknowledge them in the email and assure the customer that you will do your best to accommodate their needs.

Restaurant Information: Provide important details about your restaurant, including the address, contact information, and any specific instructions or guidelines that customers should be aware of (e.g., dress code, parking arrangements).

Cancellation Policy: Clearly communicate your restaurant's cancellation policy, including any fees or deadlines that apply. This helps manage expectations and ensures that customers are aware of the consequences of cancelling or not showing up for their reservation.

Contact Information: Provide an easy way for customers to contact you if they have any further questions or need to make changes to their reservation. Make sure to respond promptly and professionally to any inquiries.

Upsell reminders: If your restaurant offers any additional services or amenities, such as valet parking, live music, or special promotions, briefly mention them in the email as a way to enhance the customer's experience and encourage them to explore further.

Polite Closing: End the email with a polite and friendly closing, such as "We look forward to serving you" or "We can't wait to see you." Add your restaurant's name and, if appropriate, a digital signature from a manager or owner.

Be timely: As little time as possible should pass from the time your guest makes their reservation and the time they receive their email confirmation. The sooner your guest receives a confirmation email, the better. 

Mobile friendly: With the vast majority of emails being opened on mobile devices, it's important to make sure your confirmation emails are responsive to mobile devices.

Follow-up: Don't forget to send a follow-up email closer to the date of your guest's reservation – ideally on the same day as the reservation. This discourages no-shows while allowing your visitors the flexibility to change their reservations.
Don't miss out on your cancellations
Keep communicating with your cancelled bookings – perhaps they would like to rebook on another day? Check in with them to stay top-of-mind, keep those visitors on your email marketing list (with their consent) and send them promotional emails or newsletters for upcoming events.
Entice new customers to keep coming
Send thank you emails after your guests' visit, asking for feedback. With post-meal reviews you can quickly ask diners to rate your restaurant and leave a review. If a guest expresses dissatisfaction, immediately follow up to make it right. This is your chance to convert casual guests into devoted regulars.
So there you have it! Don't underestimate the importance of the humble email. Tableo includes automated email templates and on-the day follow up reminders. Get in touch should you wish to find out more.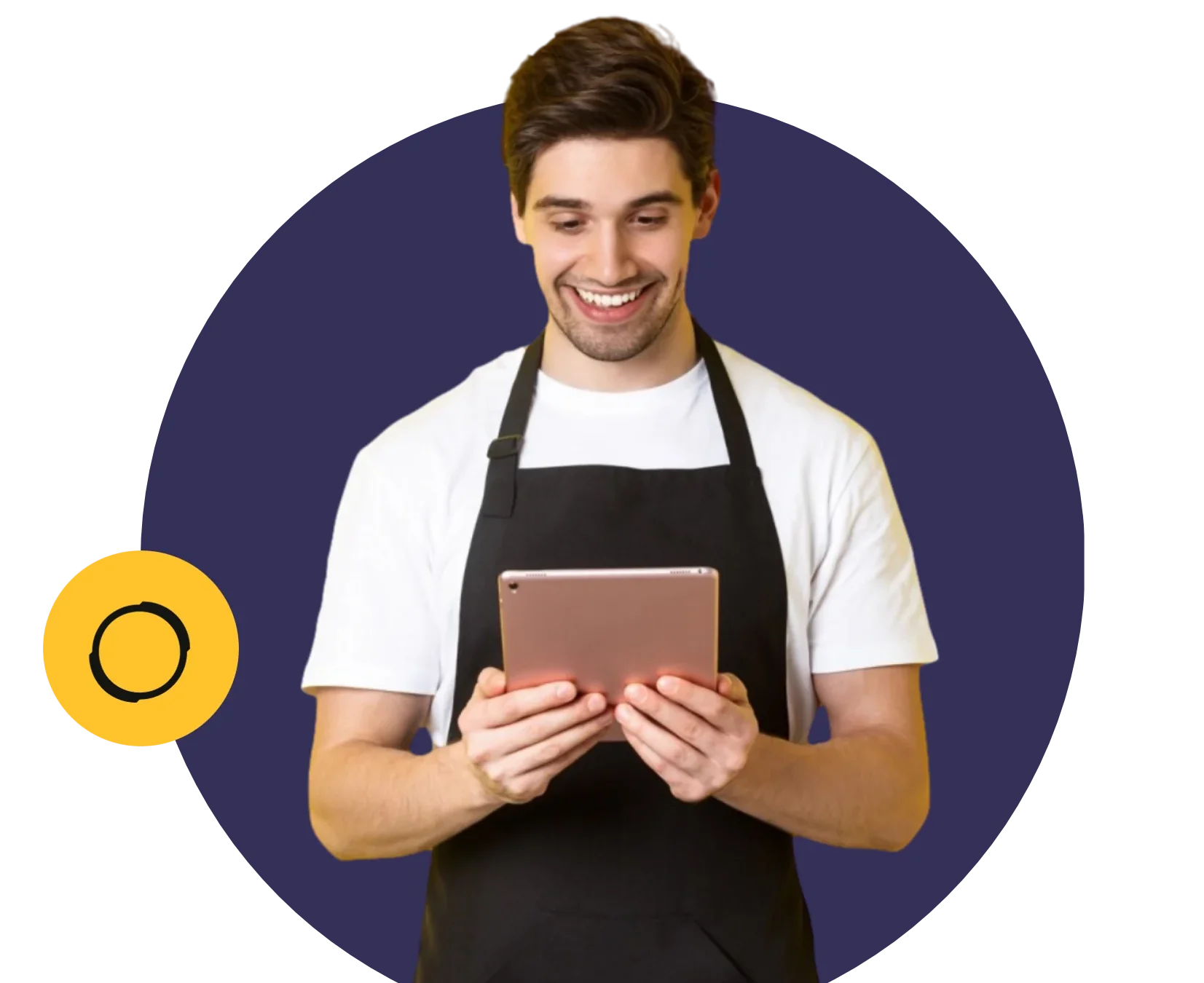 Stress Free Restaurant Management EBook
Learn how to save time, reduce stress and fill your restaurant while you sleep!